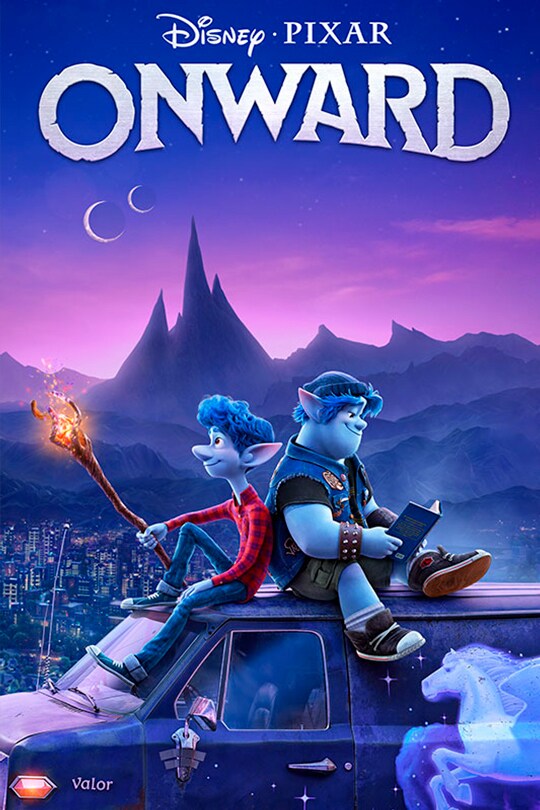 Onward is a Disney/Pixar animated movie from 2020 about two elf brothers who live in a world where magic was once common. There is a little magic left in the world now, however, and the brothers go on a quest to complete a spell for their younger brother to talk to their dad. The spell to bring the dad back for one day does not work correctly, though, and now the dad's legs have appeared without the rest of him. (Oddly, the dad's legs can understand what his sons are saying. It might be best to accept that and just move on.) The brothers go on a quest to get more magic to complete the spell.
Chris Pratt voices of the older brother, Barley, and Tom Holland voices of the younger brother, Ian. Ian is a high schooler and never had the chance to meet his father while Barley wants there to be more magic in the world and is eager to go on an adventure.
The movie takes a bit to get going but I think it got better after the brothers set off on their quest. Even though this is a movie with elves, magic and curses, at its heart, the movie is about the brothers' relationship and Ian's desire to meet his dad just once. There are some genuine moments of emotion. I will not go into too much detail about the plot, but the brothers' quest encounters some obstacles.
Click here for James Berardinelli's review of Onward and read what he has to say. I think I enjoyed the movie more than he did but I think Berardinelli is a fair critic. "Adults will likely gravitate toward the film's dramatic elements while kids will love the visually impressive but otherwise unremarkable action sequences." I think Onward is as good as Monsters, Inc. or Monsters University. I don't believe Onward is as good as any of the Toy Story films.
Onward is available on DVD at Lark, Main and Palm View branch libraries. Or, click here to get it on Blu-ray.